I Will Find Them
A downloadable game for Windows and Linux
It's one of your first days as a detective, and you still don't have had a lot to do. But then you suddenly gets a call from the town's Mayor. Can this be your first real case?
Are you ready to play a fun, weird and kinda surreal "Point & click"-game? Then this may very well be the game for you.
The story is voice acted by the amazing, well spoken and the petty nice guy, also better known as JK5000. Yes, it's just silly me that have voice acted the game, but I still hope you will like it.
The game is suppose to take about 15-20 minutes to complete.
Sound is an important part of this game. I recommend playing it with headphones.
The controls:
The player is controlled the WASD keys and the mouse.
If you need to get to the pause menu, then press escape.
Good luck and have fun.
Comments
Log in with itch.io to leave a comment.
JK5000 I am amazed by your games, as always. Good job.
Really nice game, but I cannot go further than the UFO, they kill me really fast :)
Thank you for playing the game, and I am happy you liked it. I don't remember if it's when you have died 2-3 times you should have a possibility skip the shootout.
I see that option but the only option I see is "try again".
There should be a button saying "Please skip". I don't see any reason, it not would be there. But if you don't see the button, you can try to click the TAB key two times and then click enter, when you see the menu.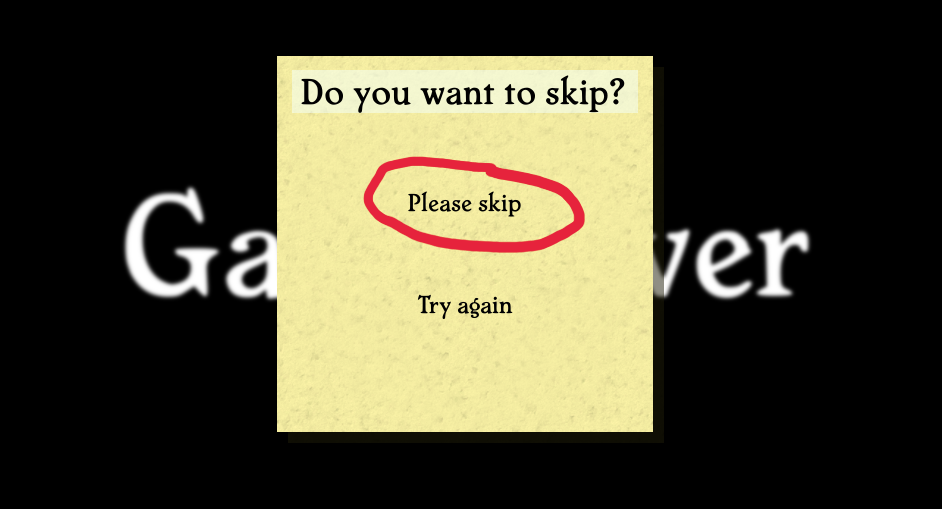 Thanks. And no, that option does not apeear. Strange.
I have finally found the stupid bug. For some weird reason you have had to have saved the game to see the skip button. I will fix this bug in the next version of the game.
Simple and fun game! The humor fits well with the bizarre plot and I especially adore the use of 2d sprites in a 3d environment along with the lighthearted voice-overs.
I was expecting twists and I wasn't disappointed. Lovely work in the jam. :)

Ok, since there isn't much reviews in this comment section, it seems I have to write it myself.
Visually, the game looks great, the blending of 3d and 2d objects/characters reminds me in a positive way to the Paper Mario artstyle. Nicely done there!
I like that you included voice acting, however it would help if it had as well subtitles since it is hard to figure out at times what are the characters saying. But I found the acting ok. The humor was another thing I found it likable.
As for gameplay, it is nothing too innovative, again, you did this in a few weeks and instead focused more on the story, which I found it good. The final fight was rather overwhelming, however.
Aside from typos and a few bugs, the game ran without problems in my pc, but unfortunately this has not been the case for other users.
I give this game a 7/10 IGN points. Good work on this game jam!
Thank you for the review/feedback.
I will probably not give the game subtitles. I have test my game again and I do in no way find it difficult to hear what is said. But I really recommend playing the game with headphones, because it makes it easier to hear the dialog, and in general do it make the game sound better.
Sadly it is often an issue to run UE4 games on a bit lower end hardware. I do really not believe it would be a problem for most players.
I know that IGN is known to get high scores to everything, but I highly doubts that this game would get much more then a score of 1-2. But thank you anyway.
Hey, here we are all beginners, and you have made more games that I have done, so don't let scores and reviews get on your head if you had fun making this game. :)
I do really in no way care about scores. I am not really sure I can say that I am a beginner, because I made my first game about 25 years ago, but it is still only a hobby for me.
Thank you so much for the feedback. I am really happy you liked the game.
The most of my misspellings happened because I made a lot the text just before the jam ended. The Datter/daughter misspelling is because daughter is spelt datter in my langues. The picture mistake was also the same thing, and I am pretty sure that the picture of the Mayors Datter (daughter) was the last thing I made before I uploaded the game.
I have by the way already fixed both issues.

I just got the time out of my day to check out your game! It was pretty cool, the aspect of having 2d characters in a 3d environment was interesting for this game. The art for the characters are interesting, the dialogue is humourous, and the voice-acting is great too. The movie-like cutscenes were a nice touch as well, considering this is a mystery game.
Just at the end of the game, not to spoil anything, but there is a minor error that I saw. The picture on the wall in the Mayor's office is different from the initial picture when you first walked into the office.
Aside from a few spelling mistakes (i.e. Datter/daughter), some of which I'll assume were to add to the humour in this game, this is a good game!